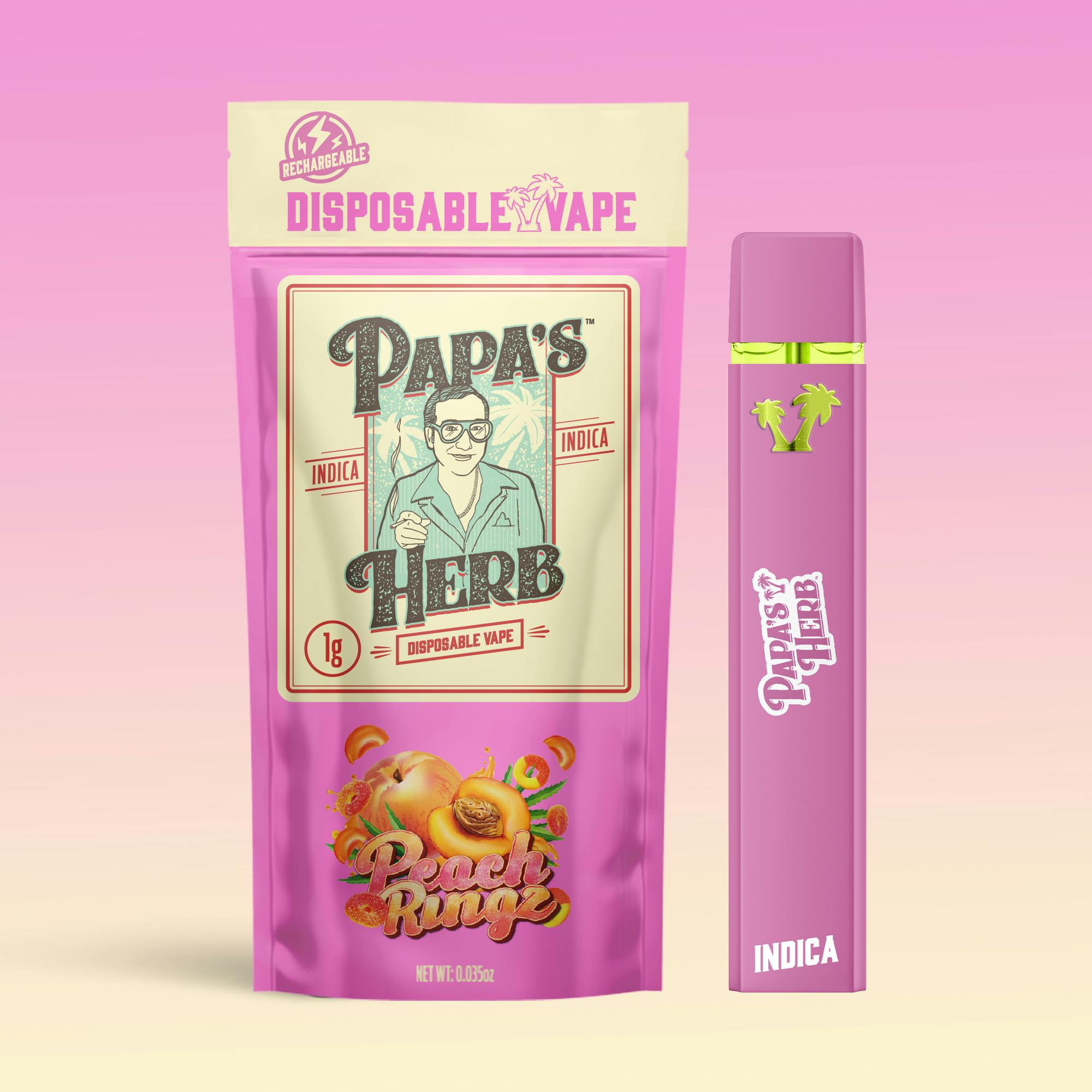 Brand: Papa's Herb
Disposable Vape - Peach Ringz
Amazing full flavor terps, with a true bright strain specific taste. Peach Ringz is a hybrid cannabis strain made by crossing Marionberry with Eddy OG, and like their candy namesake, these verdant buds shine bright with trichomes. Reviewers. say Peach Ringz makes them feel happy, focused, and tingly. Peach Ringz is ideal for moderately experienced cannabis consumers. The dominant terpene in this strain is limonene; the nose is tropical and with a sweet peach flavor. Medical marijuana patients say they often buy this strain during episodes of depression, stress, and anxiety.
Try it once and you'll come back to Papa!
Effects
Relaxed
Sleepy
Happy
View Product Testing Data
"TAC" - Total Active Cannabinoids
92.68%
"TAC" - Total Active Cannabinoids-92.68%
About the brand :
Papa's Herb
It's 1985. Papa was the king of Miami… strolling around town wearing his white suit, mesh loafers, and dark shades, chatting up all the ladies. Papa knew everybody and everybody knew Papa. He was the kind of guy you couldn't help but like – a big personality with a big heart. Papa always remembered your name. And when you needed weed, he'd hook you up. He always had a stash of the good stuff. Papa just loved to share the happiness. So here's to Papa. He's always sharing the good times. Our brand, Papa's Herb™, represents our family lineage and history behind this glorious plant. We wanted to be certain that our quality flower is always sourced with that same origin of family and sustainability. We love to support all the families and growers that are in our surroundings and we want to be sure that "the little guy" is always protected. Papa's Herb™ is a brand "by the people for the people", and we want to ensure that the people always have a quality source of affordable cannabis.