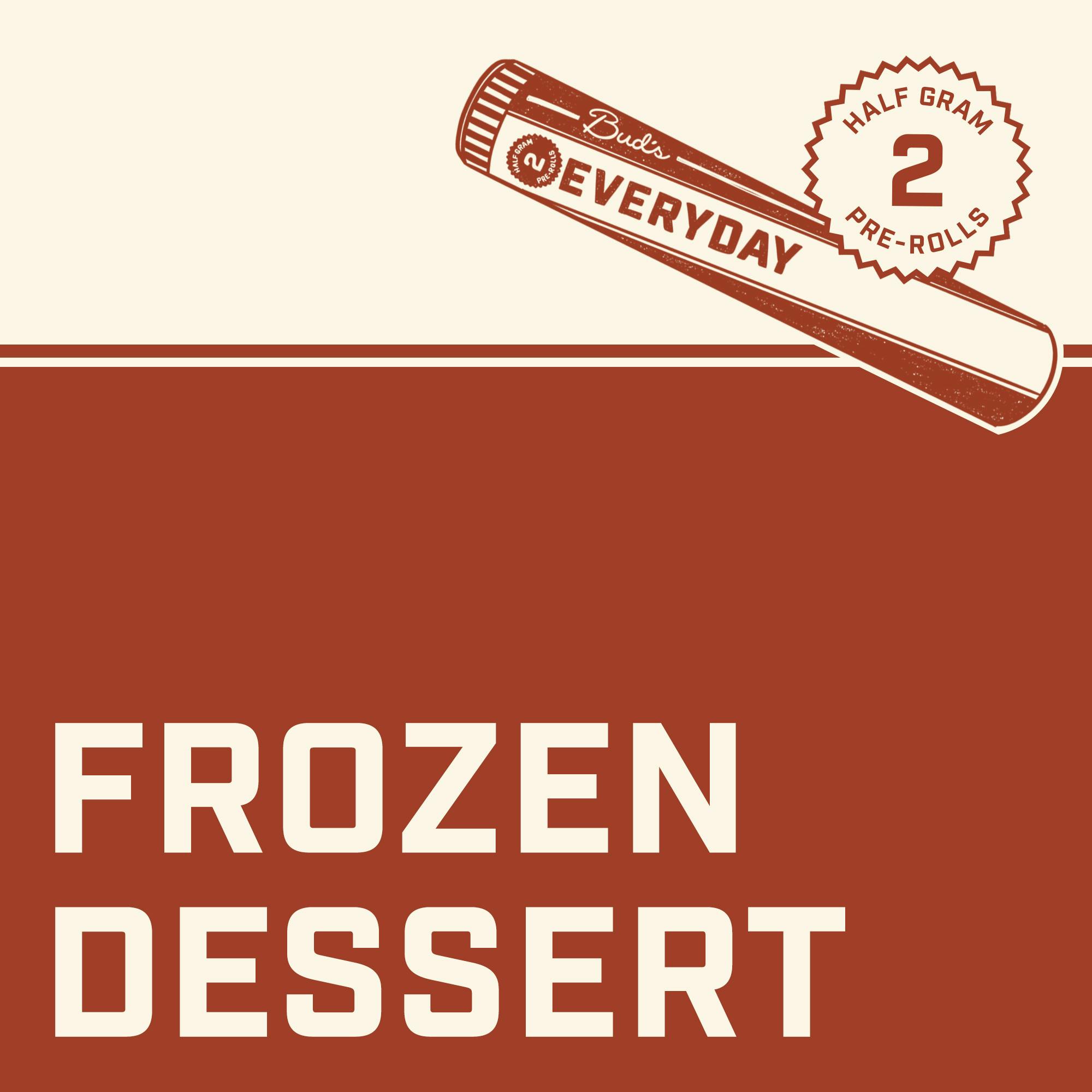 Brand: Bud's Everyday
Pre-Roll 2 Pack - Frozen Dessert
Bud's Everyday Pre-Rolls are freshly packed by Bud's with carefully sourced flower from the top growers in the state. We do all the work so you can reap the rewards: quality pre-rolls at an affordable price, every day.
Grown by our buds at Cloud Cover.
Indica Dominant Hybrid | Ice Cream Cake x OZ Kush BX2 | This hybrid indica mixes gassiness with the aroma of cookie dough and is great for winding down and chilling at home.
Effects
Relaxed
Sleepy
Happy
View Product Testing Data
Beta Caryophyllene
0.61%
Beta Caryophyllene
0.61%
Aromas
Sharp
Spice
Sweet
Wood
Potential Health Benefits
Anti-inflammatory
Gastrointestinal
Cancer Fighting
Anti-depression
Anti-anxiety
Pain Relief
Brain Function
Anti-diabetic
Humulene
0.12%
Humulene
0.12%
Aromas
Herbal
Spice
Woody
Earthy
Potential Health Benefits
Anti-inflammatory
Cancer Fighting
Appetite Suppressant
Limonene
0.25%
Limonene
0.25%
Aromas
Citrus
Lemon
Herbal
Potential Health Benefits
Cancer Fighting
Anti-anxiety
Anti-depression
Stress Relief
Brain Function
Gastrointestinal
Anti-inflammatory
Linalool
0.22%
Linalool
0.22%
Aromas
Floral
Herbal
Lavender
Effects
Comfort
Potential Health Benefits
Anti-anxiety
Anti-inflammatory
Sedative
Pain Relief
Stress Relief
Sleep aid
Cancer Fighting
CBDV (Cannabidivarin)
0.08%
CBDV (Cannabidivarin)-0.08%
CBGA (Cannabigerolic acid)
0.41%
CBGA (Cannabigerolic acid)-0.41%
"TAC" - Total Active Cannabinoids
23.96%
"TAC" - Total Active Cannabinoids-23.96%