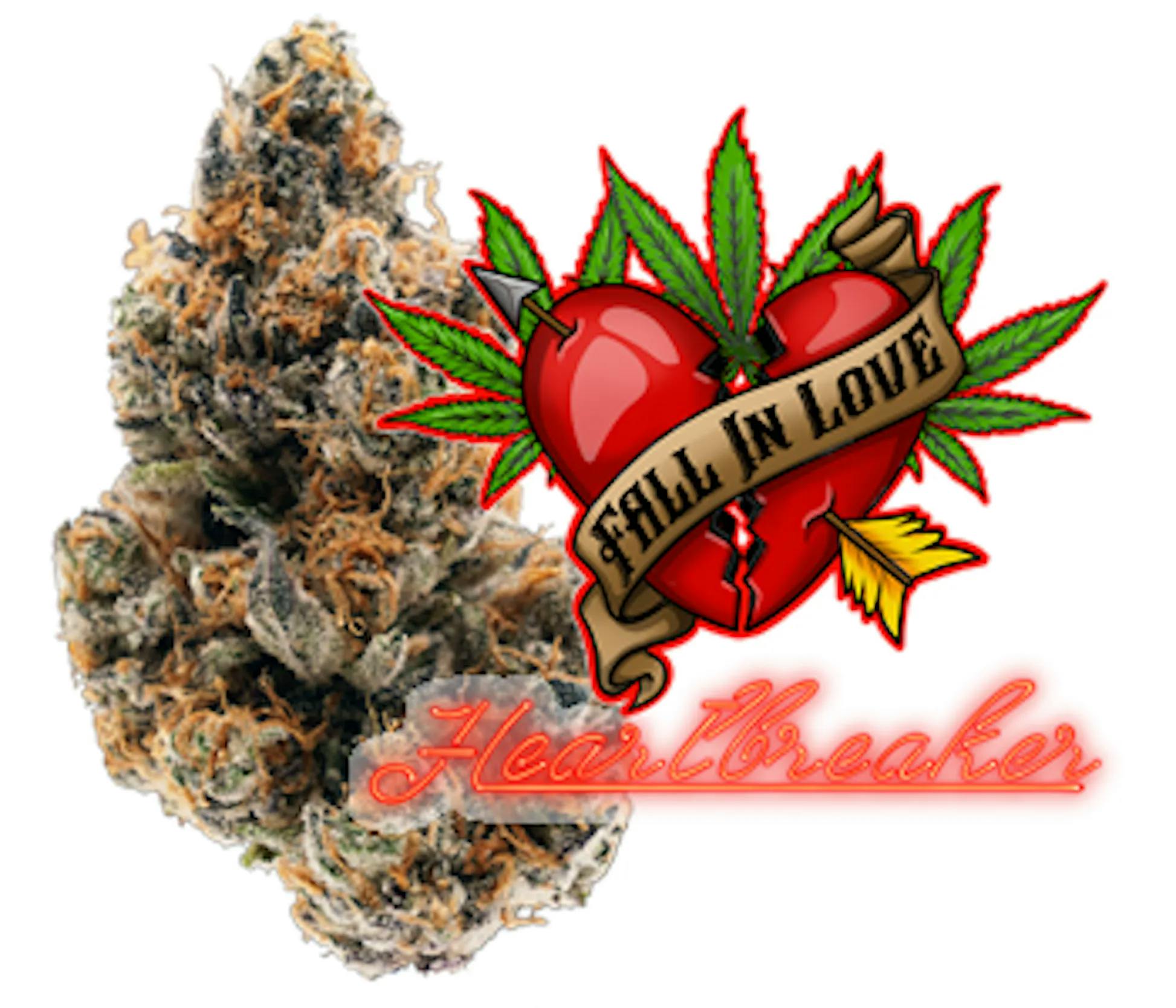 Brand: Lazy River
Pre-Roll - Heartbreaker
Coming in hot via Sunken Treasure Seeds, Heartbreaker is a strain for all the Kush lovers out there. And for the uninitiated: its beautiful and fragrant profile, stunningly colorful appearance and strong breeding, as well as an energizing buzz make this exotic cultivar a bonafide firecracker.
Created by crossing 'High School Sweetheart' (Cherry Pie Kush x Grateful Breath) with the classic 'OZ Kush' (OG Eddy Lepp x Zkittlez) – this resinous Hybrid features an abundance of trichomes and cannabinoids. Sunken Treasure Seeds, also known as the legend @grow420grow, have received praise from High Times as well as cannabis enthusiasts and savvy cultivators throughout the world.
With its pungent notes evoking earthy, fruity, and gassy undertones; the most commonly found terpenes in this strain are Myrcene, Limonene, Caryophyllene, and Pinene. Her looks and aroma might break your heart, but spark some and she'll mend you right back up with some tender, natural care.
Try Our Heartbreaker Flower: Sweet–Energetic–Irresistible… It will Light Your Fire!
Rolled up and ready to smoke, Pre-Rolls are a convenient and effective way to consume cannabis. Pre-Rolls come in many different forms and can be rolled with flower, shake, "b-buds", infused with concentrates, and more.
Effects
Calm
Happy
Relaxed
Energetic
View Product Testing Data
CBGA (Cannabigerolic acid)
0.32%
CBGA (Cannabigerolic acid)-0.32%
THC-D9 (Delta 9–tetrahydrocannabinol)
0.47%
THC-D9 (Delta 9–tetrahydrocannabinol)-0.47%
"TAC" - Total Active Cannabinoids
23.1%
"TAC" - Total Active Cannabinoids-23.1%
About the brand :
Lazy River
Lazy River Products is a vertically integrated cannabis cultivation and product development company in Dracut, MA who produces high-quality cannabis and cannabis-related products in New England.