Bud's Goods & Provisions cannabis dispensary, based in Worcester, has in the last 15 months expanded from one employee to 60, said Founder and CEO Alex Mazin.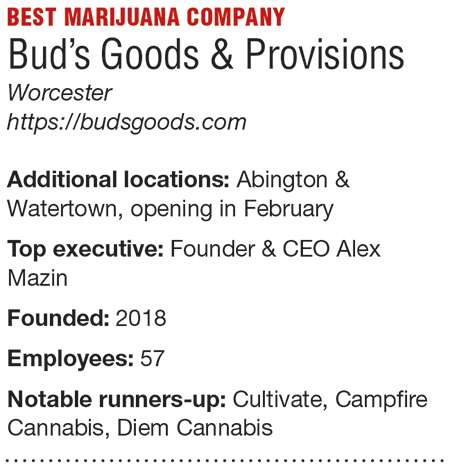 He's hoping to have more than 100 people on the team by the end of next year.
"Finding good people is the No. 1 job," Mazin said. "It's the hardest but most important."
This is part and parcel to Mazin's vision for the company, which has since expanded to include a location in Abington, with another on the way for Watertown, slated to open in the first half of 2022.
Unlike many of its competitors, Bud's is locally owned and founded, and eschews much of the typical green-and-white or green-and-black branding on display at other dispensaries across Massachusetts, opting instead for what Mazin describes as an Americana feel.
"Green was not allowed as a color palette," Mazin said.
Instead, the red, white, and blue-decked-out shops aim to breathe a fresh, New England-oriented vibe into the state's still-young cannabis market, one which often defines itself against its longer-running West Coast counterpart. At Bud's, that manifests in a few different ways, including the flagship store's location, stationed in what Mazin calls a commercial community environment. Instead of tucked away in an industrial district as many other cannabis shops are, Bud's reaps the benefits of being near a pocketful of other every-day businesses, like a drugstore, a bank, and a coffee shop.
He finds customers in Worcester stop by while in their normal routines, like after filling up their gas tank or running into a corner store.
This kind of community embedding is something Mazin strives for at Bud's.
And it's not a goal that just fell from the sky, either. Having grown up with Worcester and graduated from Doherty Memorial High School in the city, he's intrinsically familiar with both his customer base and what it's like to live in the city, itself.
This innate understanding is a driving force behind Mazin's business decisions.
"If I can't win at home court advantage, then I'm not good enough," Mazin said.
With his eyes set on opening the Watertown location and plans to expand wholesale operations, Mazin wants his business to be something his community can be proud of, and that's what he strives for: residents of the city of Worcester to be grateful they have a Bud's in town.
— Story written by Monica Benevides